Il 25 marzo 2017 ricorrono i 60 anni della firma dei Trattati di Roma.
In un periodo in cui l'Unione europea vive momenti di grande fragilità, occorre più che mai riflettere sul percorso fatto e su quello che attende l'Unione e i paesi europei, promuovendo un rinnovato impegno a rifondare l'idea stessa del progetto europeo. La conferenza Six Decades of Trade Policy: the EU at a Crossroads intende riflettere su realizzazioni, problemi e sfide in uno dei campi più avanzati dell'integrazione sin dagli esordi dell'allora Comunità economica europea.
La conferenza, che gode del patrocinio del Dipartimento di Giurisprudenza dell'Università di Torino, è organizzata dal Centro di Documentazione Europea dell'Istituto Universitario di Studi Europei (IUSE), in collaborazione con la Sezione Europea Gianni Merlini della Biblioteca Bobbio dell'Università di Torino e il Master di International Trade Law co-organizzato da Università di Torino, IUSE, ITC-ILO ed altri partner internazionali.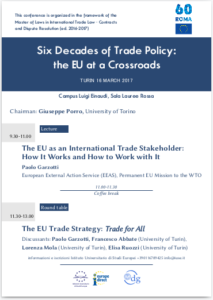 [ Comunicato stampa ]